Arkansas Electric Cooperatives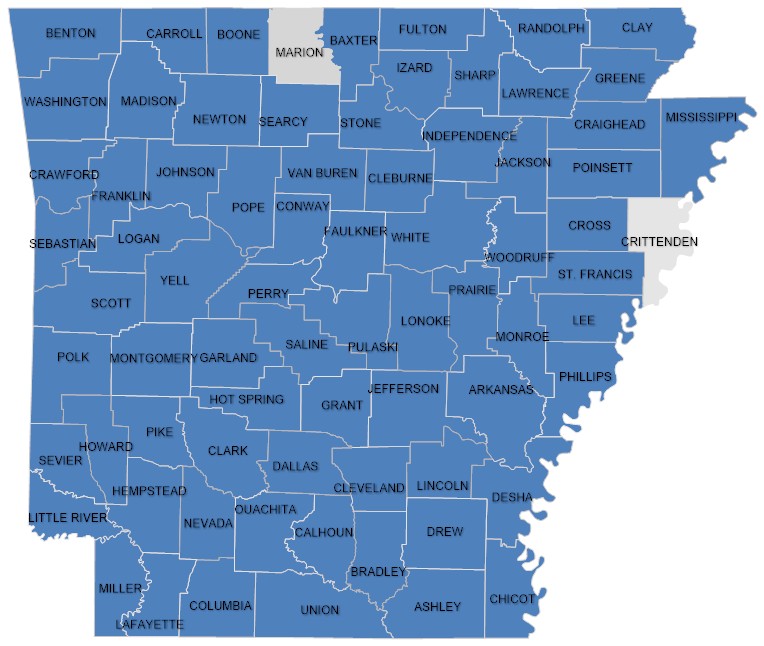 Eleven (11) of the seventeen (17) counties provided sufficient information to make determinations. 49.1% of the Arkansas population is male, and 50.9% are female. Of the board members of Arkansas cooperatives 90.4% are men, and 9.6% are women.
Racially, 74.5% of the state is white, 15.6% is black, and 7% are Hispanic. Of the identifiable board members in any level of governance, 97.8% are white, and 2.2% are black, and none are Hispanic. On the eleven (11) counties where we were able to verify information, there was no picture of one board member for Mississippi County Electric, but we counted the unknown board member as African-American. Mississippi County is 35.5% African-American. Either there is one (1) or none (0)
in terms of African-American representation on the governance of this cooperative. If he is African-American, we cannot explain why his picture was missing. If we had not counted Mississippi accordingly, there would have been only one (1) verifiable African-American cooperative board member in the state.
Arkansas Valley Electric
Ashley-Chicot Electric
C&L Electric
Carroll Electric
Clay County Electric
Craighead Electric
Farmers Electric
First Electric Cooperative
Mississippi County Electric
North Arkansas Electric
Ouachita Electric
Ozarks Electric
Petit Jean Electric
Rich Mountain Electric
South Central Arkansas Electric Coop
Southwest Arkansas Electric
Woodruff Electric Cooperative